Solid Waste & Recycling: Nantucket's mandatory recycling program was established in July of 1996. All residential and commercial property owners or occupants are required to recycle. The Material Recovery Facility (MRF) provides a single drop off area for all source separated recyclable and household waste. 
Public Works hosts six household and commercial "Very Small Quantity Generators Waste" collection events annually. If you are cleaning out your house or moving, have left over or old products from a project or job, please bring your hazardous waste to the Collection Center on scheduled collection days. For more information on dates, visit Nantucket-ma.gov/243/Hazardous-Waste
Hazardous waste collection events are held at the Department of Public Works – Administration Offices, located at 188 Madaket Road, two driveways after the Landfill entrance. When you arrive, please stay in your vehicle. DPW Contractors will remove the hazardous materials from your vehicle. 
Recycling Center 188 Madaket Road, Nantucket, MA 02554 
508-228-4283 • Nantucketma.gov/242/SolidWasteRecycling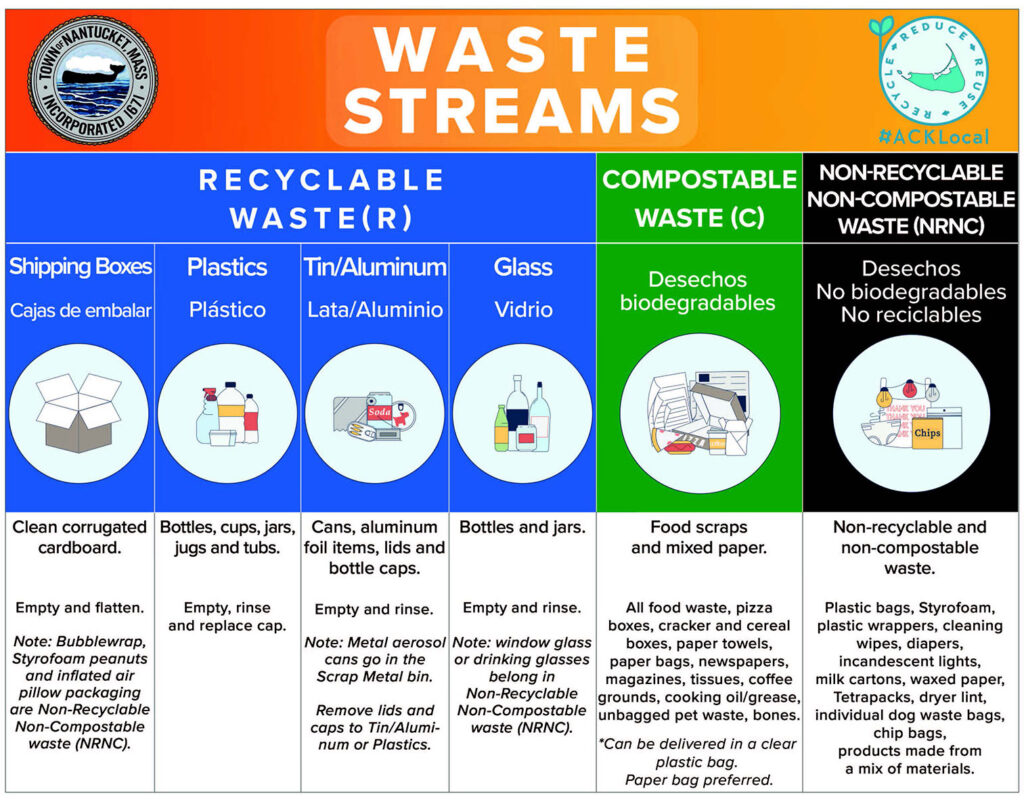 Landfill Hours Summer 
 Monday to Friday: 7 am – 3 pm
Saturday & Sunday: 8 a.m – Noon
Landfill Hours Winter
Monday to Friday: 8 am – 3 pm
Saturday & Sunday: 8 a.m – Noon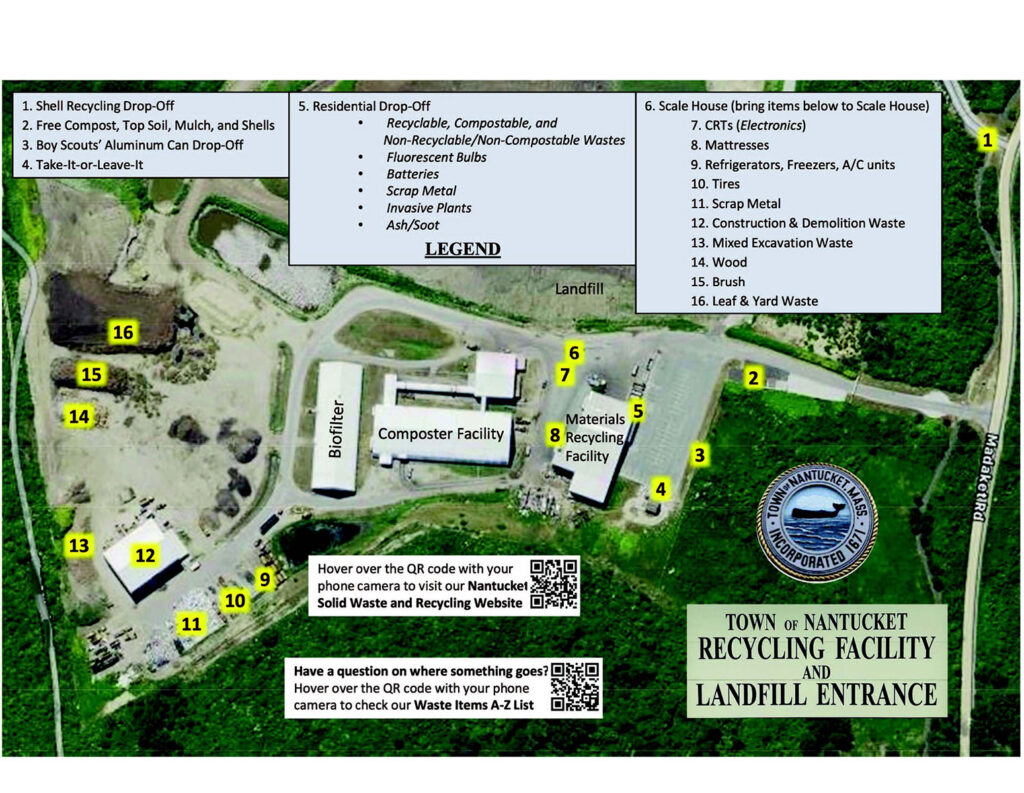 Nantucket Select Board Nantucketma.gov/192/SelectBoard 
The mission of this elected board is to serve the community by providing clear, concise goals and policies that ensure quality in the delivery of town services, longterm planning, and improved efficiencies in operating town government. 
The Select Board also serves as County Commissioners, Regional Transit Authority, Fire & Police Commissioners, Public Works Board, and Sewer Commissioners. The Select Board meets in the 
Public Safety Facility Community Room at 4 Fairgrounds Road on Wednesday evenings. 
Nantucket Islands Land Bank 
The first program of its kind in the United States, the Nantucket Islands Land Bank was conceived by Nantucket's Planning Commission, adopted by the voters of Nantucket, and established by a special act of the Massachusetts Legislature in 1983. As of the end of 2022, they hold more than 3,500 acres. 
The Nantucket Islands Land Bank is a land conservation program created to acquire, hold, and manage important open spaces and endangered landscapes for the use and enjoyment of the general public. The Land Bank's revenue is derived from a 2% fee levied against most real estate transfers on the island. The Land Bank is governed by a five member elected Commission. 
22 Broad Street • 508-228-7240 • NantucketLandBank.org 
Today, close to half of Nantucket Island is preserved as open space. The Nantucket Islands Land Bank is just one of several organizations, including the Nantucket Conservation Foundation, The Nantucket Land Council, The Massachusetts Audubon Society, The 'Sconset Trust, and others that maintain Nantucket's vital and pristine open spaces. 
Open space is beneficial for the island in many ways. It provides areas for people to enjoy, helps to maintain habitat for hundreds of species, and helps to protect the island's aquifer by providing ample unspoiled acreage for rain and snow water recharge — our sole source of drinking water. Open space also benefits seasonal and yearround residents of the island by helping to maintain property values and by keeping property taxes low. Several economic studies have shown that preserving open space has a positive economic impact on a given community.